SCIGRIP 55 is a light bodied, fast setting, versatile solvent cement for bonding flexible or rigid vinyl to itself or to urethane, leather, canvas, ABS, foamed PVC, butyrate, and wood. It bonds quickly upon contact with substrates and the bond strength will increase as solvent dissipates.
Working time of 5-6 minutes
VOC free – No volatile organic compounds
Recommended for a variety of applications in the sign assembly industry
Excellent resistance to discoloration by UV light
Outstanding lap shear and impact strength
This product is currently available in Europe and Asia only.
Packaged in 10:1 490 ml cartridges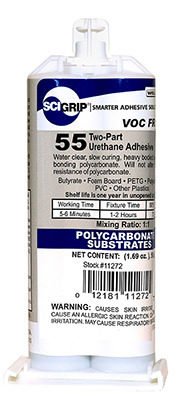 Adhesive Properties & Characteristics
| | | | | | |
| --- | --- | --- | --- | --- | --- |
| | | | Gel time = 10 Minutes, 50 Gram Mass | | |
Aged Bond Strength, lbs/in (kg/cm)